This website may contain affiliate links and advertising so that we can provide recipes to you. Read my privacy policy.
Fall off the Bone Slow Cooker Short Ribs is a perfect hearty, satisfying, and savory dinner! Full of flavor and fork tender succulent beef, it's a meal worth coming home to.
Serve this with a side of Dad's Famous Mashed Potatoes, Mashed Cauliflower or Stick of Butter Baked Rice. You can serve the meat and sauce on top the sides to help sop up all the goodness as well.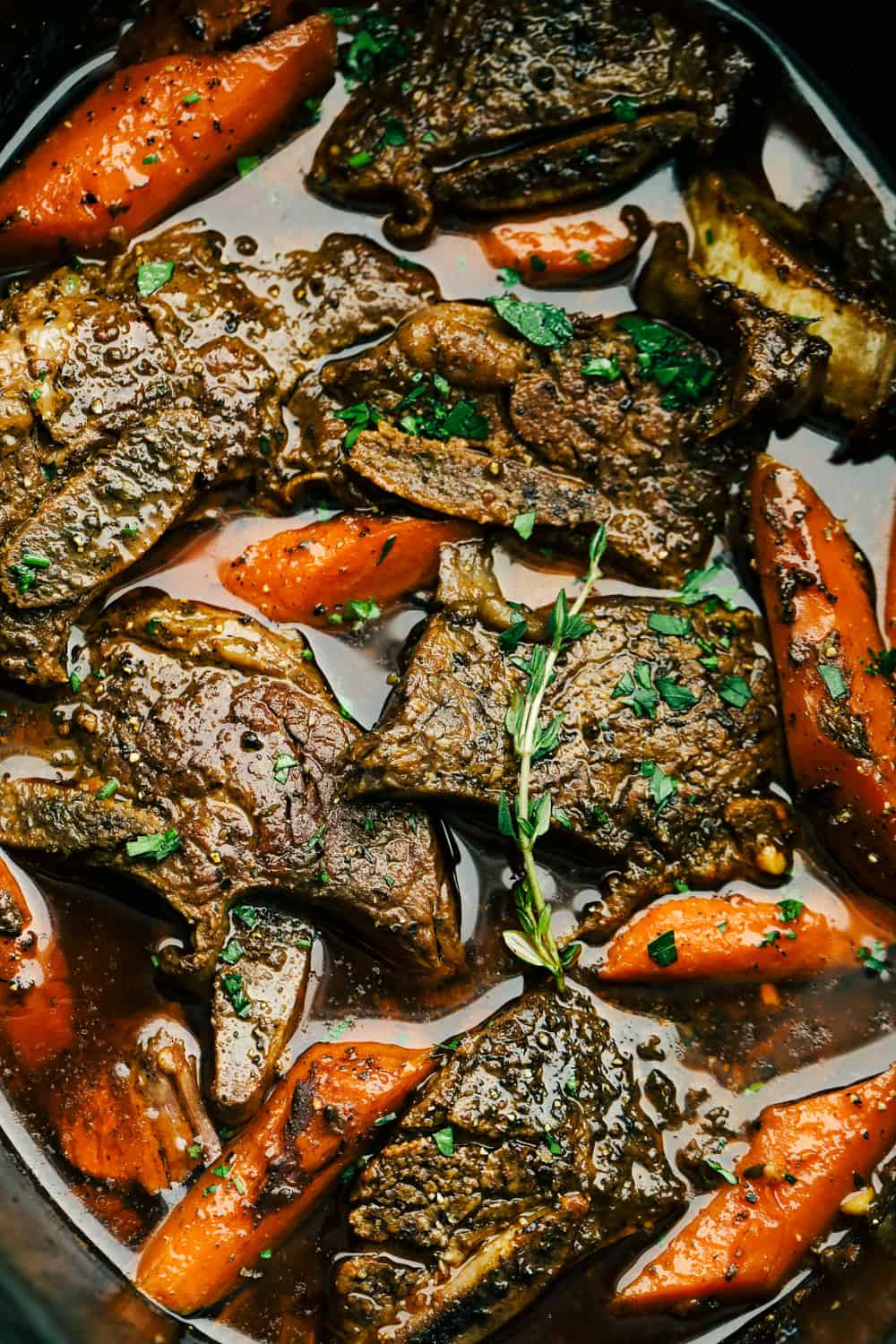 Slow Cooker Short Ribs
According to definition, short ribs are a cut of beef taken from the brisket, chuck, plate, or rib areas of beef cattle. They include a short portion of the rib bone, thus the name short rib. This cut of meat is actually pretty tough but once it reaches fork tender, it's amazing. Your whole family will love this delicious dish!
This is why beef short ribs were meant for long, slow braising at a low heat. The longer you cook them the better they become, if you try to cook them fast, they'll remain tough. Cooking them in the slow cooker may just be one of the best ways to get them to the perfect level of fall-off-the-bone doneness. After cooking away for hours in your crockpot, short ribs turn from chewy and tough to melt-in-your-mouth tender. They're a perfect winter meal. Add a vegetable some rolls and your set for a hearty week day or Sunday special meal.
Slow Cooker Beef Short Ribs Ingredients
The ribs slow cooked with the sauce imparts the best flavor. You are going to love it!
Beef Short Ribs: 8-10 should fit nicely in your slow cooker
Salt and Pepper: To taste
Olive Oil: To Taste
Carrots: Use large carrots, not baby carrots. Large carrots have more flavor
Beef Broth: To have a good beefy flavor don't substitute for other broth.
Garlic: 3 cloves minced, sounds like a lot but trust me it's needed.
Tomato Paste: Imparts strong flavor without the extra water.
Worcestershire Sauce: Gives immense flavor
Italian Seasoning: One of my all time favorite spice combinations, it's so good!
Cooking Beef Short Ribs
Quick prep work and then let the slow cooker do all the work!
Sear: Salt and pepper the short ribs and sear in the olive oil in a skillet over medium high heat. Make sure to do all sides. When they have a nice golden crust on all sides place in the slow cooker and add the carrots on top.
Sauce: In a small bowl whisk the beef broth, garlic, tomato paste, worcestershire and italian seasoning. Pour the sauce over the ribs
Cook: For best results cook on low for 8-10 hours.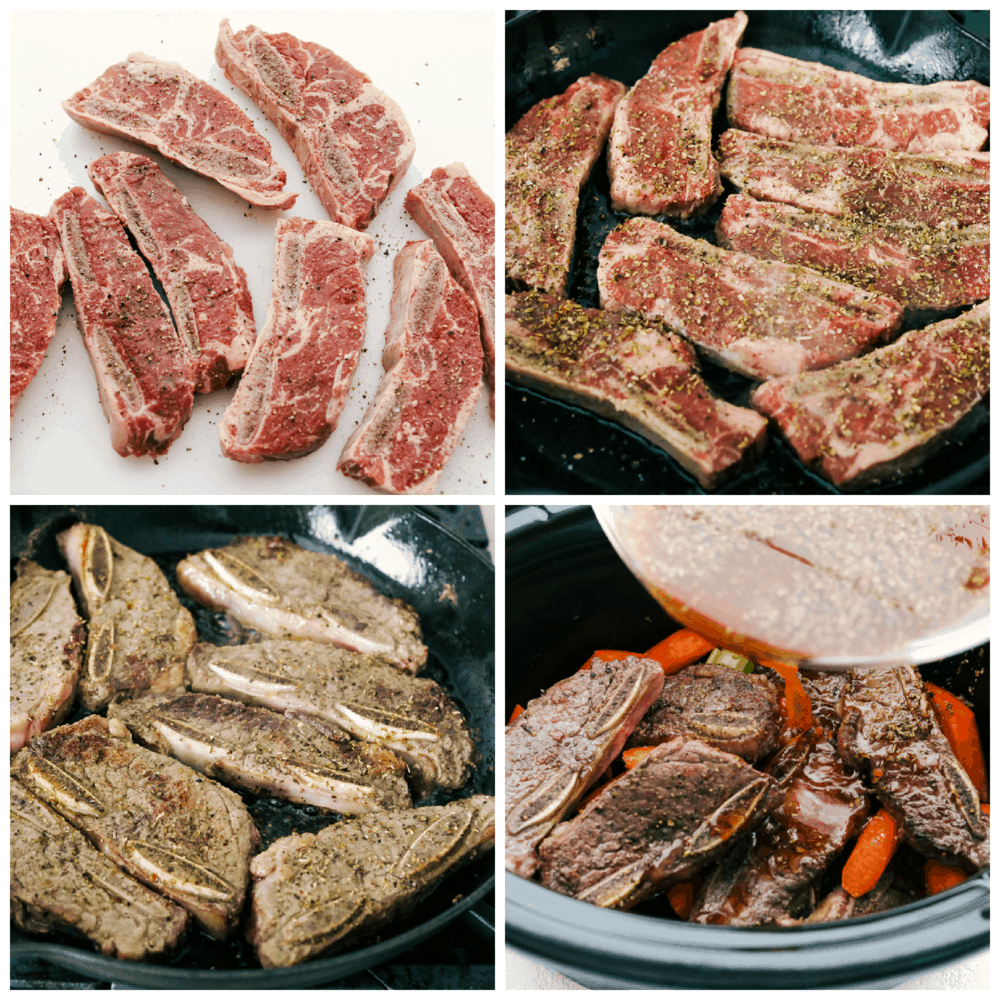 Tips for the Best Short Ribs
It's really hard to mess these up, unless you don't let them cook long enough.
Ribs: You can use short ribs with the bone in or without. Either will be amazing
Veggies: You can add onion and celery along with the meat.
Searing: You may be tempted to skip the searing step, Don't! It caramelizes the surface of the meat enhancing the flavor. So good! Worth the extra time.
Tough:  If you short ribs turn out tough, that means that they didn't cook long enough. Long and slow is key and they need to reach an internal temperature of 180-205 degrees F. This is when the heat is able to break down the connective tissue that makes them tough.
How to Make a Gravy
The sauce will create a mouth-watering gravy you don't want to skip.
Cool: After the meat has cooled for about 15 min in its juices remove the meat and cover.
Drain: Let the drippings cool for another 5 min till the fat begins to rise. Spoon the fat off of the liquid and discard.
Boil: Turn the Slow Cooker on high or you can pour the drippings into a saucepan on the stove over high heat.
Thicken: Mix 2 Tablespoons of Cornstarch and ¼ cold water together. Pour into the drippings and stir constantly till nice and thick.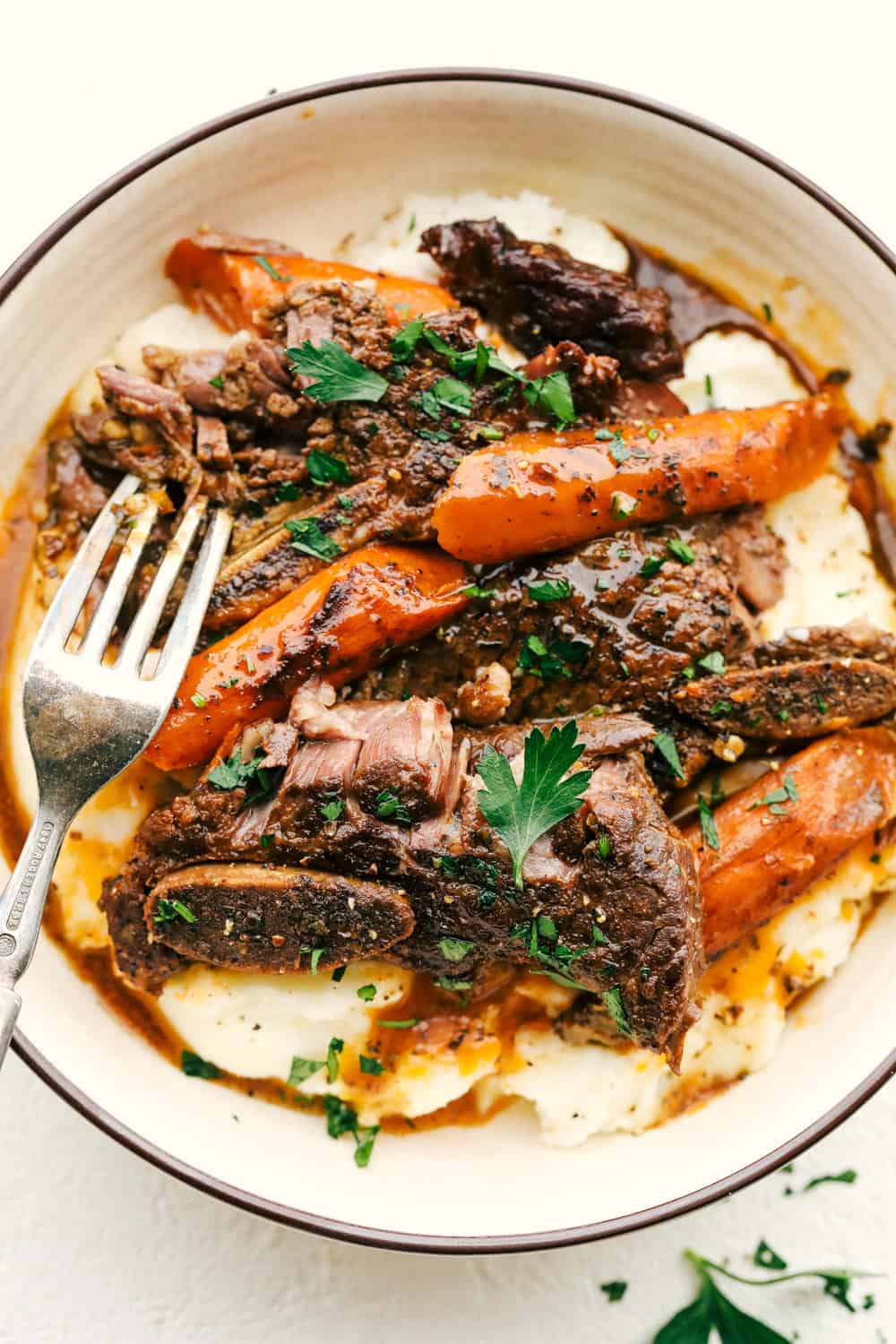 More Beef Recipes to Love
---
Salt and pepper the beef short ribs. Heat a large skillet with the olive oil over medium high heat. Add the short ribs and sear each side for 1-2 minutes or until they have a golden brown crust. Remove from skillet and add to the slow cooker and add the carrots on top.

In a small bowl whisk the beef broth, garlic, tomato paste, Worcestershire sauce and Italian seasoning. Add to the slow cooker.

Cook on low for 8-9 hours or high 4-5 hours.
---
---
Serves: 6
Calories66kcal (3%)Carbohydrates9g (3%)Protein2g (4%)Fat3g (5%)Saturated Fat1g (5%)Cholesterol1mgSodium306mg (13%)Potassium363mg (10%)Fiber2g (8%)Sugar5g (6%)Vitamin A10204IU (204%)Vitamin C7mg (8%)Calcium45mg (5%)Iron1mg (6%)
All nutritional information is based on third party calculations and is only an estimate. Each recipe and nutritional value will vary depending on the brands you use, measuring methods and portion sizes per household.